Welcome to Your Community College
Hello and thank you for choosing Eastern Iowa Community Colleges, THE Community's College.
Soon after beginning their journey with us, students discover EICC is much more than a college. We are a community, a community of people that cares about the success of each and every student who enters our doors. Your success is our success. We take immense pride and happiness in seeing students attaining the goals they have for their lives.
That's why one in seven area residents continue their education with us every year, why we are the number one choice of area high school graduates and why we are the sixth largest college in the state of Iowa.
Whether you are taking classes at Clinton, Muscatine or Scott Community College, online, or at one of our 12 satellite locations, we welcome you to our family. You are the reason we proudly say Eastern Iowa Community Colleges is THE Community's College!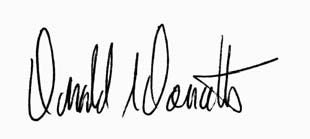 Don Doucette
Chancellor
Mission Statement
The Eastern Iowa Community Colleges [will] deliver high-quality education and training that prepares a skilled workforce, provides affordable access to higher education, and builds and strengthens our communities.
Quality Vision
[The Eastern Iowa Community Colleges will] be the first choice for education, training, and partnerships that strengthen Eastern Iowa.
Accreditation
EICC is accredited by the Higher Learning Commission of the North Central Association of Colleges and Schools.
Higher Learning Commission
230 South LaSalle St., Suite 7-500
Chicago, Illinois 60604
Phone: 800-621-7440, 312-263-0456
FAX: 312-263-7462
EICC is accredited by the Iowa Department of Education and governed by the Board of Regents. Individual programs are accredited by associations within their respective fields. EICC's concurrent enrollment program, College Connections, is accredited by the National Alliance of Concurrent Enrollment Partnerships.